This post looks at the recently updated "Global Chinese Official Finance Dataset" from research group AidData. The post is also available here as an R Notebook which means you see the code behind the charts and analysis.
China has provided foreign assistance to countries around the world since the 1950s. Since it's not part of the DAC group of donors who report their activities in a standard manner, there isn't an official dataset which breaks down where Chinese foreign assistance goes, and what it's used for.
A team of researchers at AidData, in the College of William and Mary have just updated their "Chinese Global Official Finance" dataset. This is an unofficial compilation of over 4,000 Chinese-financed projects in 138 countries, from 2000 to 2014, based on a triangulation of public data from government systems, public records and media reports. The team have coded these projects with over 50 variables which help to group and characterize them.
Activity-level data on an increasingly important donor
This dataset is interesting for two reasons. First, China and other emerging donors are making an impact on the development finance landscape. As the Bank has reported in the past (see International Debt Statistics 2016), bilateral creditors are a more important source of finance than they were just five years ago. And the majority of these increases are coming from emerging donors with China playing a prominent role.
Second, this dataset's activity-level data gives us a look at trends and allocations in Chinese bilateral finance which can inform further analysis and research. Organizations like the World Bank collect data on financial flows directly from government sources for our operational purposes, but we're unable to make these detailed data publicly available. We compile these data into aggregate financial flow statistics presented from the "debtor perspective", but they're not disaggregated by individual counterparties or at an activity-level. So there can be value added from sources such as AidData's China dataset.
A detailed view, but only part of the picture of all financial flows
However, this dataset has limitations. It only presents estimates of "official bilateral credits". These are flows between two governments, and are just one part of the total financial flows coming from China. By contrast, the World Bank is able to integrate the granular data it collects from countries into the full set of financial flows to and from its borrowing countries. This situates official bilateral credit among the broader spectrum of providers of long-term financing (such as bondholders, financial intermediaries, and other private sector entities), sources of short-term debt (including movements in bank deposits), and equity investments (foreign direct and portfolio investments). This data integration leads to better quality statistics.
In short, AidData's China dataset provides more detail on one type of financial flow, but is likely to be less reliable for a number of low-income countries. With these caveats in mind, I've done a quick exploration of the dataset to produce some summary statistics and give you an idea of what's inside.
Looking at foreign assistance by type of flow
First, let's see what the trends in different types of foreign assistance look like. AidData researchers code the projects they've identified into three types of "flow":
Official Development Assistance (ODA), which contains a grant element of 25% or more and is primarily intended for development.
Other Official Flows (OOF), where the grant element is under 25% and the the financing more commercial in nature.
Vague Official Finance, where there isn't enough information to assign it to either category.
Here are the total financial values of the projects in AidData's dataset, grouped by flow type and year: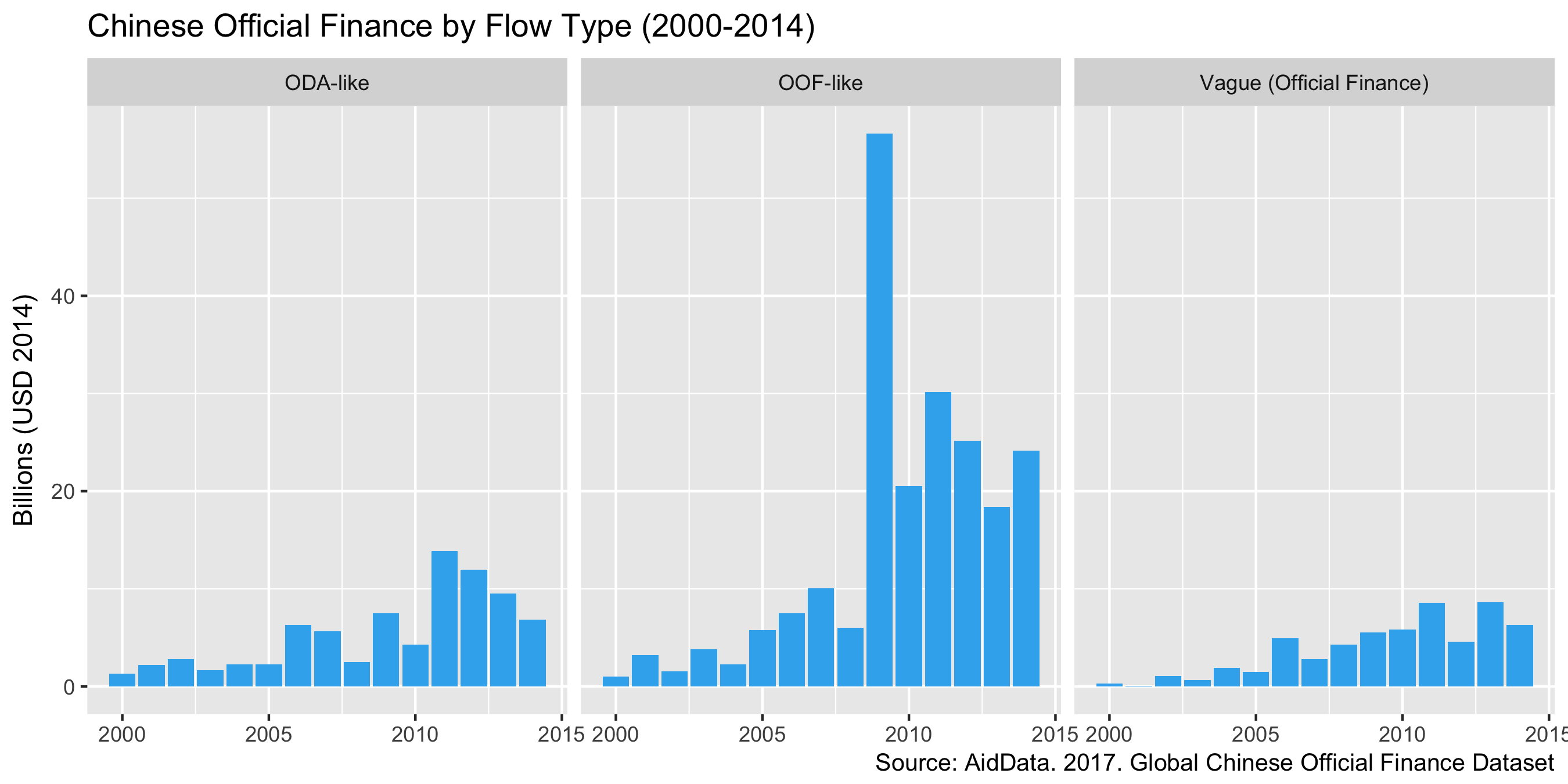 It looks like more Chinese finance is classed as OOF ($216bn in the period above) than ODA ($81bn), and that 2009 is a bit of an outlier. With this dataset, we next can figure out which countries are the top recipients of ODA and OOF, and also which sectors are most financed.
We are approaching the end of year two of implementing the
Sustainable Development Goals (SDGs)
. In September 2015, global leaders from 193 countries set a 15-year deadline – by the year 2030 – to reach the SDGs, a roadmap to end poverty, promote equality, protect people and the planet, while leaving no one behind.
What have countries accomplished in these past two years at the local level – where people receive vital goods and services to live and thrive – in areas such as health, education, water, job training, infrastructure? (The results are mixed) Have we raised enough financing? (Likely not). Do we have adequate data to measure progress? (Not in all countries). Some global development leaders have expressed concern that we may not be on track to reach critical SDGs in areas such as
health
and
poverty
.
To achieve the SDGs, we have to focus on building capacity of development actors at the
local
level to finance and deliver services that change the lives of people in their communities. This view is well-supported by a
joint United Nations Development Program (UNDP)-World Bank Group (WBG) report
, which shows that (MDGs), the predecessor of the SDGs.
The lynchpin for successful local implementation of the SDGs is
SDG 11
, which focuses on making cities and human settlements inclusive, safe, resilient, and sustainable. , not least because the world population is
likely to grow
by a billion people – to 8.6 billion – by 2030, with most of this growth to be absorbed by urban areas in developing countries.
Tackling the challenges facing cities, such as infrastructure gaps, growing poverty, and concentrations of informal housing requires a multi-faceted approach that includes coordinated regional planning with strong rural-urban linkages, effective land use, innovative financing mechanisms, improved and resilient service delivery models, sustained capacity building, and the adoption of appropriate smart and green growth strategies.
The WBG is working with our many partners, including countries, the United Nations, the private sector, and civil society to provide more effective, coordinated, and accelerated support to countries for implementing the SDGs at the national and local levels. We have provided below examples from three countries, from diverse regions and situations, which have begun this work in earnest.

Following the end of a 50-year conflict in 2016, Colombia has a chance to consolidate peace after the signing of a peace agreement. The National Development Plan of 2014-2018 includes an ambitious reform program focusing on three pillars: peace, equity, and education. Through strong collaboration with all stakeholders – local governments, communities, civil society, businesses, and youth, among others – Colombia is focusing on improving institutional capacity and financing for local and regional governments
, enhancing basic services in both rural and urban areas.

Medellin city, which in the 1990s had the highest murder rate in the world, has emerged as a confident leader, implementing an integrated and multi-sector approach that has included a combination of violence prevention programs, and the transformation into a prosperous, inclusive, and livable city. Their efforts, with support from the WBG and other partners, have the strong support of local business leaders who recognize that improving poor people's lives can help reduce the core inequities that fueled conflict in the past. The Government of Colombia is also implementing a program to enhance the capacity at the municipal level in public finance, planning, and management, to help build infrastructure and improve service delivery.
Pages