This post looks at the recently updated "Global Chinese Official Finance Dataset" from research group AidData. The post is also available here as an R Notebook which means you see the code behind the charts and analysis.
China has provided foreign assistance to countries around the world since the 1950s. Since it's not part of the DAC group of donors who report their activities in a standard manner, there isn't an official dataset which breaks down where Chinese foreign assistance goes, and what it's used for.
A team of researchers at AidData, in the College of William and Mary have just updated their "Chinese Global Official Finance" dataset. This is an unofficial compilation of over 4,000 Chinese-financed projects in 138 countries, from 2000 to 2014, based on a triangulation of public data from government systems, public records and media reports. The team have coded these projects with over 50 variables which help to group and characterize them.
Activity-level data on an increasingly important donor
This dataset is interesting for two reasons. First, China and other emerging donors are making an impact on the development finance landscape. As the Bank has reported in the past (see International Debt Statistics 2016), bilateral creditors are a more important source of finance than they were just five years ago. And the majority of these increases are coming from emerging donors with China playing a prominent role.
Second, this dataset's activity-level data gives us a look at trends and allocations in Chinese bilateral finance which can inform further analysis and research. Organizations like the World Bank collect data on financial flows directly from government sources for our operational purposes, but we're unable to make these detailed data publicly available. We compile these data into aggregate financial flow statistics presented from the "debtor perspective", but they're not disaggregated by individual counterparties or at an activity-level. So there can be value added from sources such as AidData's China dataset.
A detailed view, but only part of the picture of all financial flows
However, this dataset has limitations. It only presents estimates of "official bilateral credits". These are flows between two governments, and are just one part of the total financial flows coming from China. By contrast, the World Bank is able to integrate the granular data it collects from countries into the full set of financial flows to and from its borrowing countries. This situates official bilateral credit among the broader spectrum of providers of long-term financing (such as bondholders, financial intermediaries, and other private sector entities), sources of short-term debt (including movements in bank deposits), and equity investments (foreign direct and portfolio investments). This data integration leads to better quality statistics.
In short, AidData's China dataset provides more detail on one type of financial flow, but is likely to be less reliable for a number of low-income countries. With these caveats in mind, I've done a quick exploration of the dataset to produce some summary statistics and give you an idea of what's inside.
Looking at foreign assistance by type of flow
First, let's see what the trends in different types of foreign assistance look like. AidData researchers code the projects they've identified into three types of "flow":
Official Development Assistance (ODA), which contains a grant element of 25% or more and is primarily intended for development.
Other Official Flows (OOF), where the grant element is under 25% and the the financing more commercial in nature.
Vague Official Finance, where there isn't enough information to assign it to either category.
Here are the total financial values of the projects in AidData's dataset, grouped by flow type and year: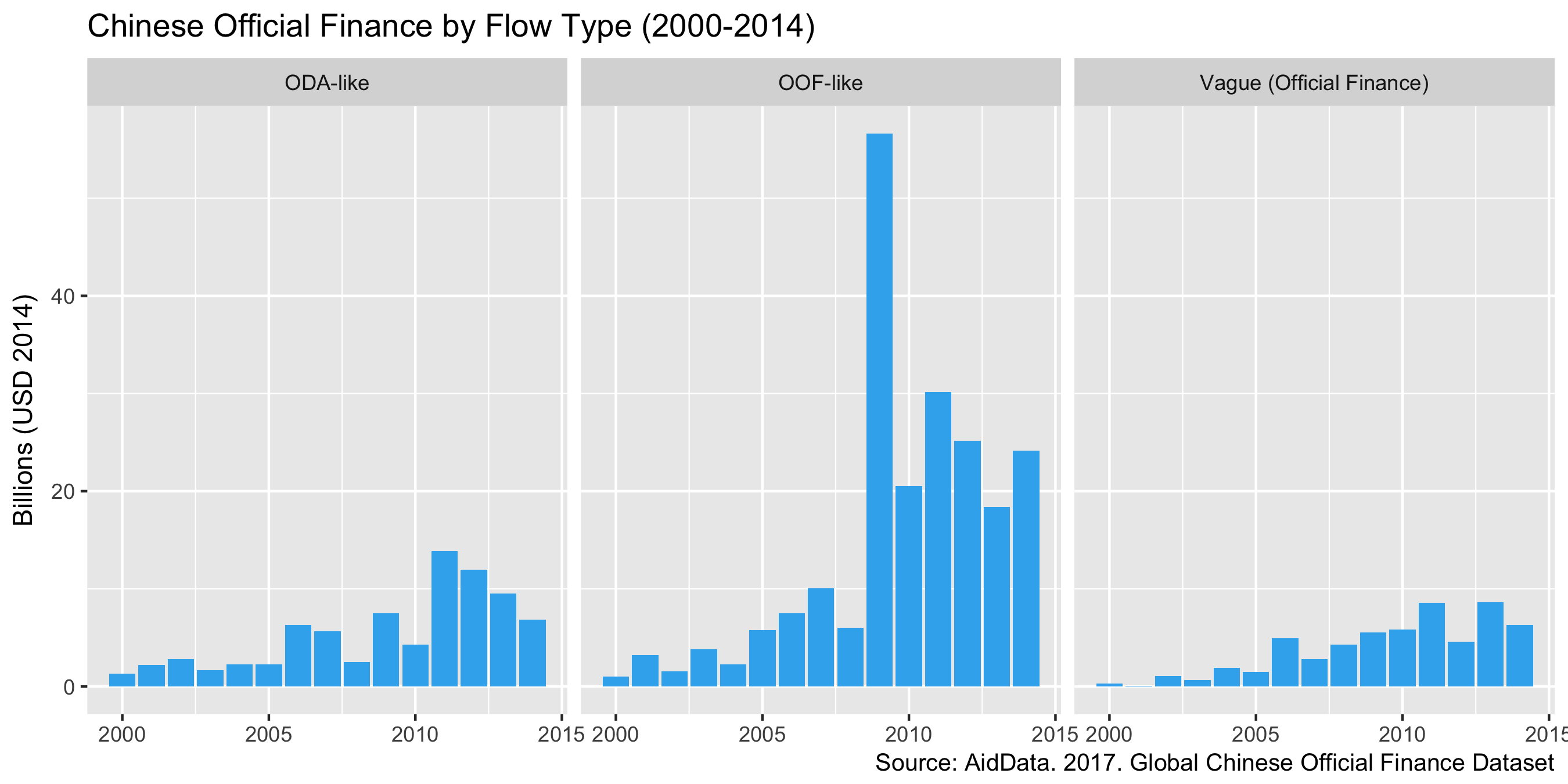 It looks like more Chinese finance is classed as OOF ($216bn in the period above) than ODA ($81bn), and that 2009 is a bit of an outlier. With this dataset, we next can figure out which countries are the top recipients of ODA and OOF, and also which sectors are most financed.
Which World Bank financed project can you see from space, and on Leonardo DiCaprio's Instagram?
As Raka and I found out in this episode, it's the "Noor Ouarzazate Concentrated Solar Power Plant" in Morocco - an epic energy project that's part of the country's plan to have 42% of its energy mix come from renewables by 2020.
Seriously, it's epic: just look at these pictures from CNN and this World Bank video.
Renewable energy seems to be getting cheaper than ever, and we ask the question: are we reaching a "tipping point" where renewable energy is cheaper to produce than energy from fossil fuels.
In our discussion with Mafalda Duarte, head of the $8.3 billion Climate Investment Funds (CIF), I learned that renewable energy (in this case, concentrated solar power) is a bit more complicated than just finding somewhere sufficiently sunny or windy. For example, the concentrated solar power (CSP) technology being used in Noor Ouarzazate is relatively new and so more expensive. With the investment CIF is making, the cost of the CSP technology can be driven down, and the tipping point reached faster for other countries wanting to adopt the technology.
So what are the issues of geography, politics, technology and economics when it comes to large scale renewable energy, and how can we influence them to help countries reach the tipping point where renewable energy becomes the best option?
This episode of Between 2 Geeks is hosted by Tariq Khokhar & Raka Banerjee, and produced by Richard Miron. You can chat with us on twitter with the hashtag #Between2Geeks, listen to more episodes on the World Bank Soundcloud Channel and subscribe to "World Bank's Podcasts" in your podcast app or on iTunes.
Pages