August 2013
(Photo by Chico Ferreira, available under a Creative Commons license - CC-BY-2.0)
When I met Juliette Cadavid, I was immediately impressed with her energy and her smile. I was in Pereira, in the coffee zone of Colombia, filming a video on the mass transportation system of the city, Megabus, supported by a World Bank project.
But when Juliette told me her story, how she was the only woman to drive one of the larger buses (articulados) of the Megabus system (she says there are two more women driving smaller buses), how her career in the public transportation world started and how she carried on with faith and work till she landed a job in an urban transportation system, I told myself that this was a story I wanted to share.
With her urge to achieve her goals, she reminded me of the documentary Girl Rising, and how women face challenges in a world of men, but with the hope that they can overcome them.
As World Bank reports show, women have been key to poverty reduction in Latin America: more than 70 million of them joined the labor force in the last 20 years, and their income, on its own, has reduced extreme poverty by 30%. But there are still many barriers and inequalities concerning the type of work, or salary.
Juliette is one of these women who have been able to overcome challenges and stereotypes, and has managed to make her dream come true.
Listen to her story:
 
Bringing Down Gender Barriers: Testimony of a Colombian Bus Driver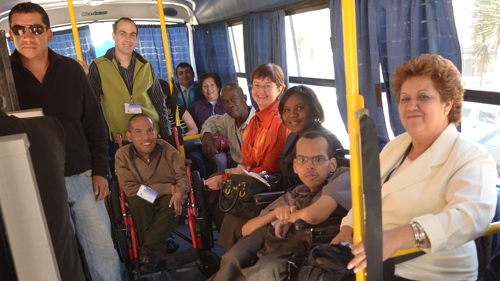 Can a ramp for people with disabilities make a difference in a big city? The answer may seem obvious to many, but I encourage you to read on to find out the complexities and nuances surrounding the issue of mobility in a large Latin American metropolis. This is a true story. I was attending the launch of a project "Mainstreaming Inclusive Design and Universal Mobility in Lima "project -  financed by the Japan Policy and Human Resources Development (PHRD) program and I was surprised to see people in wheelchairs asked to move away from the table where coffee, pastries and fruit were being served during the break. 
 
 At the same time blind, deaf and people with cognitive impairments, among other disabilities, were being actively welcomed.