Social Development
Co-Authors: Aleksandra Iwulska, Javier Eduardo Báez and Alan Fuchs

In April this year the Dominican Republic borrowed 1.25 billion US dollars on international markets in 30-year bonds. The DR is the only country in the B investment rating group that  successfully issued 30-year bonds in the last 6 years. The country has a total of 2.75 billion US dollars for three issuances in the past 15 months.

At the same time, debt levels have been growing in the country: non-financial sector public (NFPS) debt doubled from 18.3 percent of GDP in 2007 to 36.6 in the first quarter of 2014.When considering the DR Central Bank debt stock, levels would be already close to 47 percent of GDP. It is worth noticing that Jiménez and Ovalle (2011) estimated in 56.7% the debt to GDP the maximum debt to GDP threshold that investors would consider sustainable for the DR in 2013.  Meanwhile, interest payments reached a peak of 2.4 percent of GDP in 2012-13 and external debt stood at 25 percent of GDP in 2013, levels not seen since the economic crisis of 2003. But the economic realities in the DR now are much different than they were in 2003. GDP grew by 4.1 percent last year and 5.5 percent in the first quarter of 2014. The Central Bank forecasts the annual economic growth at 4.5 percent this year. Meanwhile, central government fiscal deficit dwindled from 6.6 percent of GDP in 2012 to 2.9 percent in 2013.
También disponible en español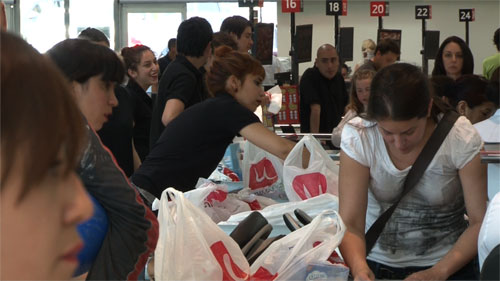 Since the Great Recession of 2008, there has been a widespread sense of malaise among the American middle class. Their incomes are close to stagnant, employment has not recovered, and the gap between them and the famously rich top 1% continues to grow. Look south of the Rio Grande, though, and it is quite a different picture. In the last decade, moderate poverty (under U$ 4 a day) in Latin America and the Caribbean fell from over 40% to 28%.