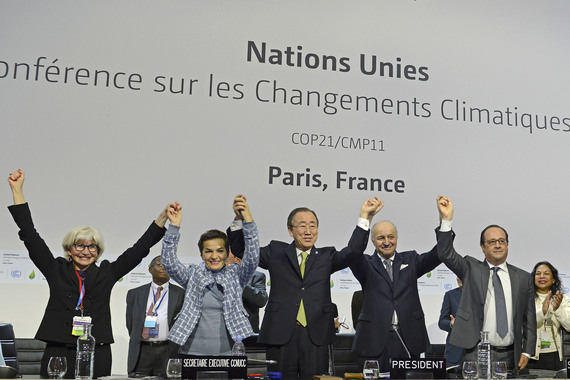 It has been nearly three months since 195 nations reached a historic agreement at COP21 in Paris to combat climate change and set the world on a path to a low carbon and more resilient future.

And in a little over a month, heads of state and governments will gather in New York to sign the Paris Agreement. Countries will then have one year to ratify the agreement, which will enter into force after it is ratified by at least 55 countries, representing at least 55 percent of global greenhouse gas emissions.

As we approach the signing of the agreement, it's time for countries and companies to seize the momentum from Paris and move from celebration of a landmark deal to action.

So what needs to happen?
As the Paris Agreement recognized, climate change represents an imminent, mounting threat to people and the planet. In the face of that, the world needs to step up protection for people - boosting their resilience to the impacts of climate change now and in the future.

Quite simply that means integrating climate considerations into all development. It means ensuring when a road or irrigation system is built, it's designed to withstand the vagaries of extreme weather. It means building up coastal protection, delivering on the promise of early warning systems and climate resistant crops for farmers.

It's what we in the World Bank Group have already started doing through our fund for the poorest countries, IDA. The challenge now is to go further.

Boosting the resilience of people and countries is more than just bricks and mortar. It also means strengthening the ability of people, especially the poor, to deal with climate shocks, which can impact people's lives, health, and jobs. It means delivering universal health coverage and strengthening social safety nets, so people have access to funds in the face of shocks. An example of this was after Typhoon Yolanda in the Philippines, when the government was able to use an existing conditional cash transfer system to quickly distribute emergency funding to affected people.

The Paris Agreement marked a change in ambition, confirming the target of keeping the rise in temperature below 2 degrees Celsius, but also agreeing for the first time that we should be aiming for 1.5 degrees, which would protect those small island states most at risk.

To achieve that goal, countries will need to be able to deliver on their Paris commitments - the nationally determined contributions, or NDCs. Implementing these pledges, worth trillions of dollars in investments, will require concerted action now by governments, international organizations like ours, civil society and the private sector.

The World Bank Group is already working with dozens of countries to help them achieve their NDCs. There is huge demand in areas like renewable energy, energy efficiency, green buildings, climate smart agriculture, and better management of water and natural resources.

That said, we know the transition to a low carbon economy and increasing the world's resilience to climate shocks will not be cheap by any measure. It will require trillions, not billions, of dollars in new investments. Public funds simply can't do it. The private sector will be essential.

That's why we've strongly advocated putting a price on carbon pollution and ending costly fossil fuel subsidies now being paid out by governments. Much better use can be made of the billions paid out by governments on subsidizing fossil fuels. And pricing carbon pollution will help not only to stimulate innovation and cut emissions but also give governments the funds they need to help drive investments for a low carbon future.

At the World Bank Group, we're putting the finishing touches on an action plan that will integrate climate into all our work, and allow us to better help countries achieve the pledges they made in Paris. We will also be putting resources towards areas where the potential benefits are huge - such as increasing the energy efficiency and resilience of cities, and expanding green transport.

But we will not be acting alone - our efforts will be aligned with our partners, with the private sector, and with governments. The climate challenge we face is daunting, but it is not insurmountable if we work together.  It is time for everyone to play their part so when world leaders sign the Paris deal in April, those signatures mean far more than just letters on paper.

Follow John Roome on Twitter.

This blog post was originally published on HuffPost Green.