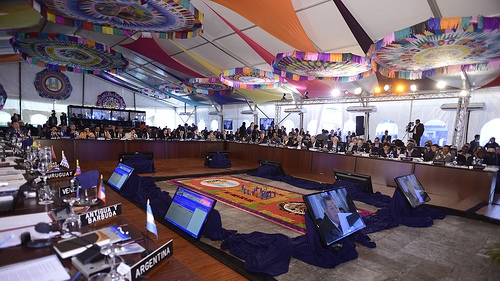 Antigua may mean old in Spanish, but what has been accomplished here looks quite modern.

In this colonial city, a living example of Guatemala's Mayan heritage, surrounded by mountains and volcanoes, foreign ministers from across the Americas have achieved what appeared if not impossible, very difficult: to create a space for inter-American dialogue to build a new continent-wide strategy in the fight against drug trafficking.
At the heart of the ancient imperial city, the delegates distanced themselves from the so-called 'war against drugs' and explored new ways to combat the scourge of drug trafficking and organized crime.

While some countries favor the decriminalization of certain substances, others argued that this measure can't be universally adopted but should be part of a cohesive policy, ranging from prevention to interdiction and strengthening judicial systems.

Within this context, and based on a report commissioned by the 2012 Summit of the Americas in Cartagena and presented by OAS Secretary General José Miguel Insulza, delegations from across the Americas came to a consensus on opening a dialogue at the highest level to reach a shared region-wide anti-drug policy.

In fact, by quantifying the human, economic and social cost of the illegal trafficking of narcotics, the report has become the reference point for such debate [link]. What's more, it also sets out various possibilities to create a path which both takes into account differing regional realities as well as production, distribution, money laundering and drug use issues.

Those who were predicting a confrontational atmosphere may have been disappointed since a sense of mutual respect led to an open discussion based on a principle of shared responsibility.

The US Secretary of State, John Kerry, called for a comprehensive and honest debate, which helped in establishing a positive atmosphere.

Meanwhile, several Latin American countries attacked policies centered on repression being the focus of anti-drug strategy, and called for a comprehensive approach, which is the basis for consensus.

They also called for prevention and for health and treatment policies for drug victims to be put in place, involving both the government and private sector in the search for solutions.

And that is the key: linking the search for a new focus to anti-drug strategy with the need to a step forward in improving citizen security within the region.

Insecurity is now seen as an obstacle to development and, in one way or another, is affecting the entire region.

In short, to quote Insulza, Antigua marks the first chapter of a debate which will continue at the highest level and in a comprehensive manner.