Standing stronger together: Reflections on building resilience for small island states
|
Located in some of the most disaster-prone regions in the world, Small Island Developing States (SIDS) know the impacts of natural hazards all too well.  In fact, more than half of the countries most vulnerable to natural hazards are SIDS. The effects of climate change will only increase the frequency and intensity of these hazards.
Recognizing these harsh realities, small island states across the globe have been taking big steps toward bolstering their resilience to disaster and climate risk.  Fiji, for instance, has pioneered a first-of-its-kind climate vulnerability assessment, which is already helping the country prioritize actions for resilient development. In the aftermath of Hurricane Maria, Dominica meanwhile has set in motion a resilient recovery plan which is promoting resilient building practices in the housing sector.
Eager to exchange experiences and lessons learned, more than 60 development practitioners from 29 small island states came together in Geneva, Switzerland on May 12-13, 2019 for the Fourth Meeting of the Small Island States Resilience Initiative (SISRI) Practitioners' Network. An initiative of the Global Facility for Disaster Reduction and Recovery (GFDRR), SISRI works with small island states to reduce climate and disaster risks to their populations, assets, ecosystem and economies. Below, we highlight some of the key takeaways from the sessions and presentations in Geneva.
Risk-based decision-making is vital for helping SIDS prioritize resilience investments
SIDS have a range of options to consider as they strive for a resilient development path – from investments in hydrological and meteorological (hydromet) services to the strengthening of regulatory frameworks for resilience. If the experience of several SIDS is any indication, then risk-based decision making at the regional, national, and local level will be critical to helping the SIDS prioritize options for building resilience. São Tomé and Príncipe's spatial risk information platform, Haiti's atlas of natural hazards and the Pacific Risk Information System are just some examples of multi-hazard risk data and information platforms that are enabling SIDS to better understand and analyze their respective climate and disaster risk profiles, thus helping guide their resilience planning and investments.
Innovative financial instruments and private sector engagement are key to sustaining resilience investments
All too often, SIDS have found that financing from traditional sources, including external aid and budget reallocation, falls far short of what is needed to invest in a resilient future. By leveraging innovative financial instruments and engaging with the private sector, SIDS are, however, finding a way forward.  Maldives and Seychelles presented on the "Catastrophe Deferred Drawdown Option" (CAT DDO), an innovative contingent line of credit that can provide immediate liquidity to countries following a disaster. Meanwhile, the Caribbean Climate-Smart Accelerator, which is fast tracking climate investments in the Caribbean through a multinational coalition of public and private partners, was highlighted as an example of promising engagement with the private sector.
Boosting implementation capacity must go hand-in-hand with resilience-building
Several SIDS called for a greater emphasis on capacity-building so that they can overcome roadblocks in the implementation of resilience measures. A case in point is the Caribbean Community (CARICOM) Regional Organization for Standards and Quality's experience with improving the quality of the region's infrastructure and housing sector. While national building codes are now in place across the Caribbean, gaps in regulatory frameworks remain which have hampered compliance.   And as the Marshall Islands pointed out, government agencies in charge of implementing resilience measures often lack the time, resources, and interdisciplinary expertise required to carry out resilience measures.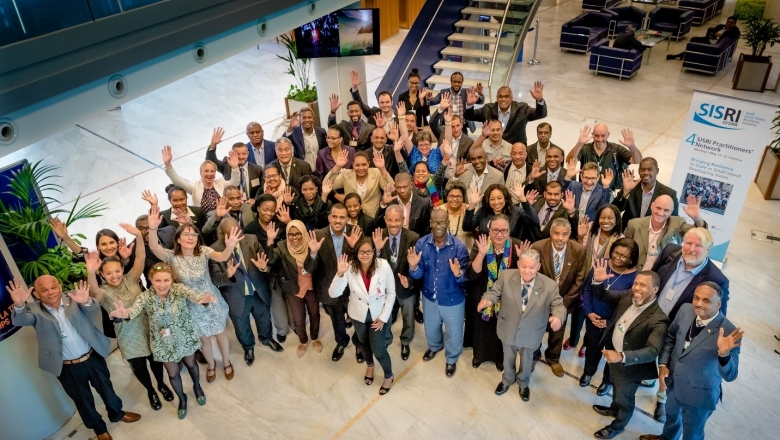 Inclusive and gender-responsive resilience planning will help ensure that no one is left behind
In large part due to the unequal distribution of roles, resources, and power, women and girls, persons with disabilities, older people and marginalized populations tend to be the most in harm's way when disaster strikes.  The experiences of several SIDS, however, are proof positive that inclusive resilience strategy and planning can help ensure that no one is left behind in disaster risk management efforts. 
The Solomon Islands has turned to community-driven development to help ensure that resilience measures reach the most vulnerable populations, while Cape Verde has made advances in integrating gender considerations in its resilience policies, plans and strategies.
We are deeply inspired by the leadership of small islands states in tackling their climate and disaster challenges. Yet as even the SIDS acknowledge, the twin challenges of a changing climate and intensifying disaster risk will not be easy to overcome.  
However, by exchanging experiences, ideas and lessons learned from efforts already underway, we believe that a resilient future for the SIDS will be much more achievable. The SISRI Practitioners' Network has already served as an invaluable platform for peer-to-peer learning among the SIDS. Drawing on a session at a previous SISRI meeting, São Tomé and Príncipe has, for instance, drafted regulations that incorporate aspects of Mauritius' zero-tolerance policy for beach sand mining.
Our global community of practice, organized through the SISRI Practitioners' Network, is interested in your ideas and insights for how to build resilience in the small island states. We would love to hear from you in the comments below!
Held on the sidelines of the 4th World Reconstruction Conference (WRC) and the 6th Global Platform for Disaster Risk Reduction, the Fourth Meeting of the SISRI Practitioners' Network meeting was jointly organized by SISRI and the United Nations Office for Disaster Risk Reduction (UNDRR), among other partners.
READ MORE