As we get ready to kick off the new year, let's recount the voices and stories about how we can enhance the way we interact with our planet. From Ethiopia to Indonesia, we've seen our efforts improve lives and help incomes grow as countries and communities strive for greener landscapes, healthier oceans and cleaner air.
Take a look back at some of the most popular stories you may have missed in 2014:  
1. 
Raising More Fish to Meet Rising Demand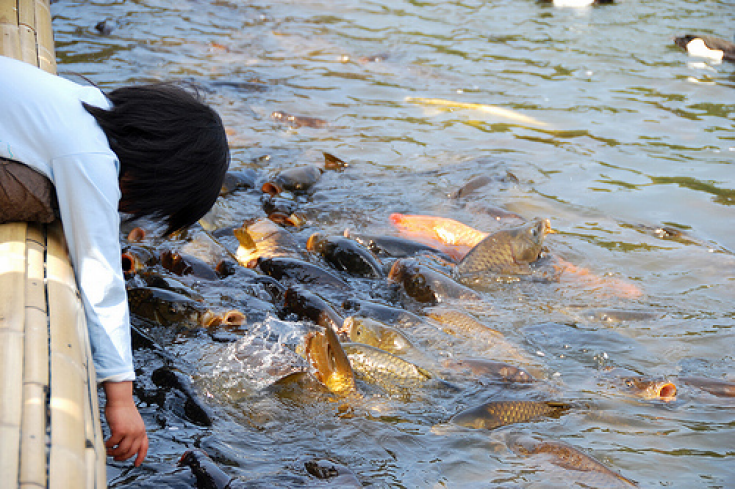 Aquaculture is on the rise to help feed a growing population. New #Fish2030 report: http://t.co/0fbH4fLDJO http://t.co/Lm5eHsGZaR

— World Bank (@WorldBank) February 6, 2014
In 2030, nearly two-thirds of the fish we eat will be farm-raised as wild catches level off, according to a
World Bank report
. This underlines a serious challenge of our time: feeding a growing population without depleting already-strained natural resources. But there are solutions, such as sustainable management of
fisheries
and
aquaculture
, and
effective trade in fishing services
—
and the global community agrees that we must
put all hands on deck
to make them happen.  
2.
It Takes Villages to Conserve Indonesia's Precious Coral Reefs
Protecting Indonesia's Coral Reefs
In Indonesia, coastal communities learn how jobs and livelihoods can 
benefit from
 conserving ocean habitats. "When the coral reefs are healthy, there will be a lot of fish to catch and our income will increase," said fisherman Hendriawan. Similar stories from the 
Brazilian Amazon
 and the 
Bangladesh Sundarbans
 help 
make a case
 for more protected areas, which now cover around 
15% of the earth's land and 3% of its oceans
.  
3.
Restoring Lands, Lives and Livelihoods in Africa

One man's story of stopping the desert in #BurkinaFaso tells us: Drylands are NOT inevitable http://t.co/lnlV049Ct0 pic.twitter.com/LnYMVIDTy9

— WB Environment (@WB_Environment) October 29, 2014
Along the $1.1-billion
Great Green Wall
in Africa, reforesting degraded land in 12 countries can protect the ecosystem, increase food production and boost rural livelihoods—including 30 million farmers in
Ethiopia
alone. At the recent climate conference in Peru, global influencers made a stand for
resilient landscapes
, and called for more
climate-smart action
to manage farms, forests and everything across the landscape.  
4.
Fighting Wildlife Crime to End Extreme Poverty and Boost Shared Prosperity
Prince William: Wildlife crime recognizes no borders and undermines development.
Prince William
spoke out clearly when he said that
: environmental crime like poaching and wildlife trafficking is "one of the most insidious forms of corruption and criminalities." Such acts threaten ecosystems, food security and livelihoods, especially for the world's poorest. The good news is that leading financiers remain committed to combating wildlife crime, with $300 million invested by the World Bank in forestry, fisheries and wildlife law enforcement. Here's more about
why wildlife matters to us.
5.
Cleaning Bangladesh's Air
(and Argentina's Polluted River)
Millions in Bangladesh's capital breathe bad air due to two major polluters: brickfields and motor vehicles. But fresh efforts to build clean-tech brick kilns and greener transport options are making a difference in Dhaka. With substantially less air pollution, the city could avoid 230 million disease cases and save up to 3,500 lives. Meanwhile, Argentina is determined to clean up
one of the world's most polluted rivers
, so that local communities can enjoy cleaner water and healthier living conditions.   
6.
Natural Capital Accounting Taking Hold as Countries Go Beyond GDP
Countries Go Beyond GDP to Make Natural Capital Count for Development
Natural capital like forests, oceans and wetlands accounts for 36% of the total wealth in developing countries. But
GDP alone doesn't paint this picture
. Working with World Bank-led
WAVES partnership
, Botswana, Guatemala, the Philippines and many others have therefore embraced "natural capital accounting" to incorporate the value of natural capital into economic planning. The World Bank's
Little Green Data Book
also includes a
new indicator
for more than 200 countries called
change in wealth per capita
—negative changes imply that a country is becoming poorer by leaving behind fewer resources for future generations. These tools can aid policymakers plan for a more sustainable future.